Last updated Sunday, August 27th 2000

Update and pictures added under Gonzo's Log!
---
Thank you for visiting Homeward Hounds online! Homeward Hounds is a not-for-profit animal rescue organization dedicated to offering a hopeful future to abused, neglected and stray animals. We are an all-volunteer organization which survives solely on adoption fees and donations.
After living in the original kennel for a year & a half, Scotty (left) finds a home! Here Scotty enjoys the grass with his new mommy, daddy & sister Maya! Congratulations Scotty!
Our Beginnings
Homeward Hounds was founded by Savina Thompson, a volunteer with Noah's B'ark Animal Rescue. This group was formed because of a pathetic condition in which a large number of dogs were found living. 40 dogs had been taken in from abusive and stray situations by a kind woman who, while trying to save them from euthanasia and worse, found herself "in over her head" and was unable to care for the dogs properly. Many of the dogs have been forced to live in a cold, damp, covered outdoor kennel for as long as 4 years. Savina was fortunate enough to find several volunteers who felt equally committed to freeing those incredibly sweet, brave furry kids and giving them the second chance they so deserved.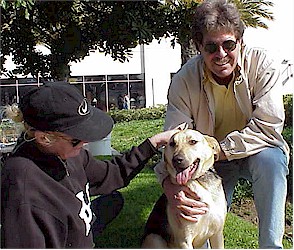 Scotty's (above) best friend Smokey finds a home! They say he sleeps in bed with them (in the middle, of course!) & licks his new dad's face all night long! Congratulations, Smokey!
Our Mission
The volunteers of Homeward Hounds all share a common heartfelt belief: that we are all animals living on this planet and that one is no more worthy of happiness, joy and comfort than another.....and one's suffering is no less true. It is on this premise that we base all of our rescue efforts. We do not have a kennel or shelter in which to house the animals; volunteers provide temporary foster care while the animals await placement. Homeward Hounds supplies the food and medical care necessary for these fostered animals. We are currently in desperate need of foster homes, as most of our dogs are still forced to stay in the original kennel while awaiting homes because we don't yet have enough foster homes or money to move them to better housing. If you're able to provide a safe, loving, temporary environment for a dog while he/she awaits placement in a permanent home, please click on the "Becoming a foster parent" link to the left or e-mail us at HomewardHounds@aol.com. If you're able to sponsor a dog or would like to send us a donation to help, please click on the "Becoming a Dog Sponsor" link or e-mail us.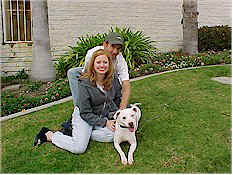 Daphne finds a foster home!
Homeward Hounds Online
We are constantly adding pictures of our animals as we're able to take them. We hope to have pictures of all of our available animals in the near future, but for now this is but a small sample, so if you don't see the "one for you", please send us an e-mail & let us know what breed, sex, age and temperment of dog you're looking for (as well as what other pets you have) and we'll do our best to find the perfect companion for you! We have a large number of dogs in our care, so chances are we have the furry kid for you, but in case we don't, we also happily work with other rescues. If we don't have an animal who fits your description, we'll call around to help locate one within another group. We are not able to guarantee the health or personality of any animal who is not in our care, but we'll provide you with some information that will be helpful in insuring a perfect match!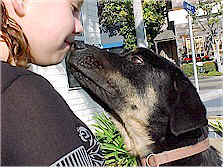 The kisses make it all worthwhile!
Good luck and happy searching!
The volunteers at Homeward Hounds Animal Rescue

Please sign our guestbook!
---
Volunteer Jeanine flashes a smile at a Homeward Hounds adoption day!
Volunteer Claire cuddles one of her furry friends!
Volunteer Norm & his friend Nicky enjoy a romp through the grass at a Homeward Hounds adoption day!
The doggies would like to express their sincere appreciation for all of our wonderfully kind, hard-working volunteers!